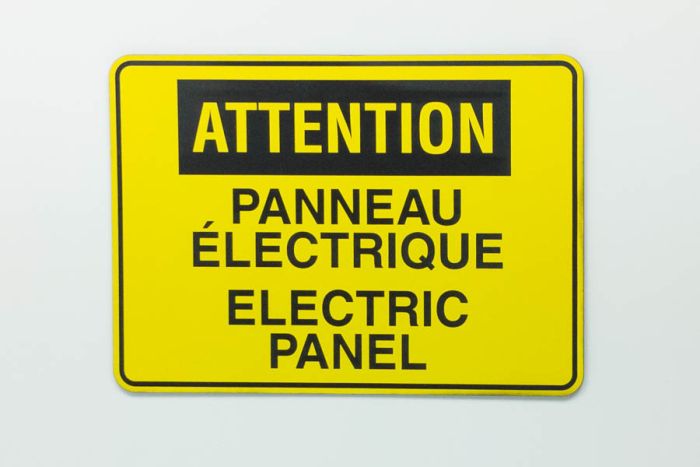 Plate - Engraved plastic
• Possibility of making customizable shapes with great precision
• Largest choice of color among all plate categories
• Only two colors possible on the same plate
• Option of a bevel for a better finish
• Inside / Outside
Plate - Plastic engraved on the back
• Smooth transparent plate, covered and engraved on the back
• Can be painted on the back to put the engraving of one or more specific colors
Advantage - Plastic engraved on the back
Color in customizable engraving
Since we are engraving in a transparent plate, there is the possibility of filling the engravings with a paint of the color of your choice.
Easy cleaning
Featuring a smooth finish, our back-engraved plastic nameplates can easily be cleaned.
Plate - Engraved textured plastic
• Only two colors possible on the same plate
• More scratch resistant due to the textured surface
• Option of a bevel for a better finish
Advantage - Engraved textured plastic
Textured surface
The surface of these plastic nameplates is textured which gives them better resistance to scratches.
Details - Engraved plastic in general
Product color
This engraved plastic plate can easily be personalized with the color of your choice.
Plate thickness
The standard thickness of engraved plastic is 1/16 "(1.6 mm). Some colors are available in 1/32 "(0.8 mm) or 1/8" (3.2 mm) upon request.
Possibility of a bevel
Plastic allows for a bevel. This modification adds a better finish to your plates. This option is only available on linear shapes. If you have a curved shape, it will be necessary to make an email request to have its feasibility assessed.
Cutting plastic
Laser cutting of plastic allows customizable shapes to be made with high precision at low cost.
Hanging the plate
Our standard adhesive is very strong and easily withstands outdoor temperatures. However, if the working environment is tough, we have another type of thicker adhesive available upon request.
Maximum dimensions
Our equipment allows us to engrave plastic sheets up to 24 x 48 inches (610 mm x 1220 mm).
Made in Canada
We manufacture our lamicoids in Quebec.
*Get a price by choosing your quantity, color and dimensions.